Hockey – How To Make Sure Subs Are Allowed To Play tonight
And other things you need to know to run your hockey team in the league
In this post we will cover the essential things you need to know as a Team General Manager to make sure games start on time. If you have run a hockey team (or any other recreational team) you know that in the beginning everyone is eager to show up.
Eventually the interest subsides, and you need to fill in the holes to make sure you have enough players coming. Subs are always needed. There will be a time when you need a sub goalie, or a few sub players. You can't play a game without a goalie, and it is definitely is not fun if you don't have enough skaters. So lets dive in, and make sure you don't lose valuable game time when you bring subs to your games.
what you need to do at game time
Whether you are a Team GM, or someone standing in because he or she is not there you need to know what to do before the puck drops.
You need to:
Make sure you have a goalie for the game, everything starts there.
Make sure you have enough players coming to the game (minimum is 6 skaters and a goalie).

All players must have a valid waiver and vaccination proof (not our rules, but we have to live by them) before they step on the ice

Make sure you have jerseys for your subs that comply with the league rule (more on this in a minute).
Finally, make sure you see the Time Keeper and cross off, or add players to your roster on the game sheet, and sign it.

If you have subs or players wearing a different jersey, please update the game sheet with their number next to their name.
Once you take care of these tasks, you are able to start the game. No one is allowed on the ice unless they have a valid waiver signed and have vaccination proof uploaded to their profile. Both will be verified by the league.
how to make sure your subs are allowed to play – Part 1 – before the game
Like we mentioned before, a little planning is required. Each sub, including the goalie has to join your team on League Apps. Even if the player is already playing in the league, we are not able to ascertain with 100% certainty it is the player coming to the game (name duplicates are possible).
To invite a player to your team this is what you do. Login to your League Apps account, then go to your Dashboard. Once there, click on Invite Players, and invite each sub via email to join your active roster. Players on active team roster are will be added to your game roster on the stats pages.

This is the screen you see when you click on Invite Players (on desktop). Enter your player emails and send them the invite.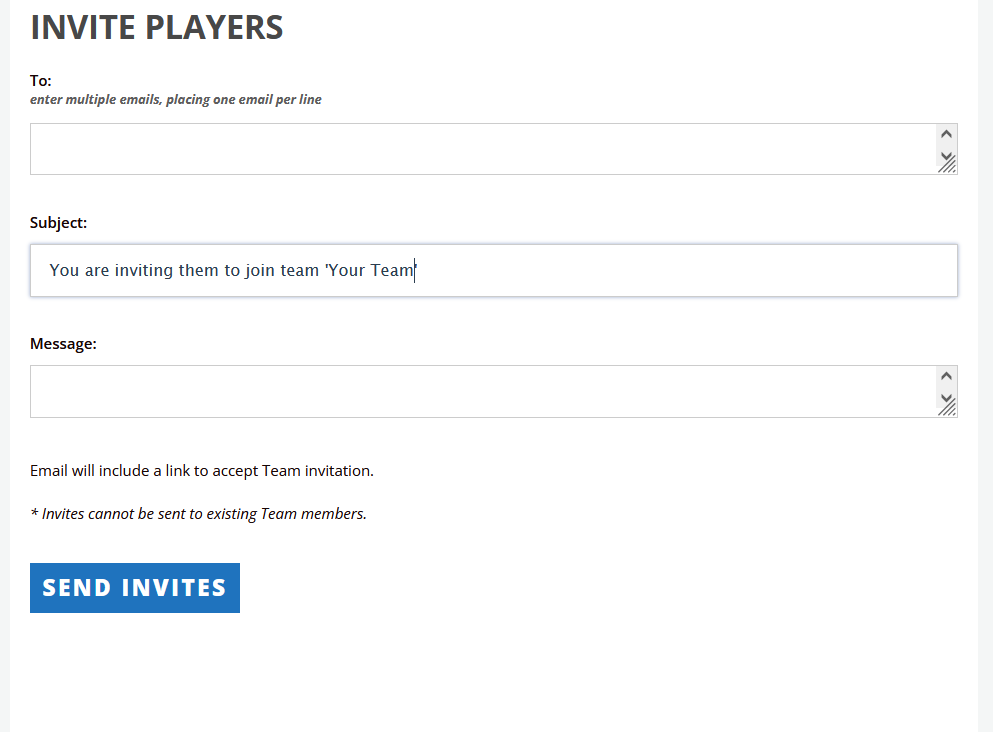 get your player to join your team
Once you finish this step, your player/s will receive and email with the invite. It should not take long, 5 minutes at most. If they do not receive the email, please ask them to check their spam.
Your player will then be able to accept the invite to join the team. They will create their profile, agree to terms, fill out a waiver and upload their QR code. This is the only acceptable form of vaccination proof right now.
After the player has accepted the invite, you should see them on your team's roster (you just need to go to the Roster for your team on League Apps. Like so.

Players joining the team should use the discount code SUB2122 so they can get past the payment screen. Alternatively, they can abandon registration at the payment screen. These players will show as unpaid on your roster. This is ok, as we can zero their invoice out. You just need to let us know who the subs are.
Part 2 – game time!
Part 1 is done, if the player shows up on your team's roster, they are allowed to play (unless they uploaded a picture of a cat instead of their QR code, yes we do check). The next step is to make sure they actually are allowed to play at game time.
If you were on the ball, and added your sub 24 hours before game time, they should be added to the game sheet for you. But sometimes life just does not work like this. Players drop like flies right before game time all the time. And it is especially painful when this happens with a goalie! So you add a sub mere hours before game time.
From our perspective the Time Keeper probably printed the game sheet by now. This means your player/s did not make it on there in time. No worries. All you have to do is tell your subs to bring their phone on the bench so they can show the Time Keeper they are on your team's roster (in League Apps) and their QR code. Viola, they can be written down on the scoresheet and can play.
So for the sake of expedience, please make sure your subs do this as the Zamboni driver closes the doors. Otherwise, you will be spending the warm up trying to sort out whether your players can play tonight. And if it is your goalie, then you can't start the game on time and most likely the clock will drop in the third. No one wants that!
the aftermath – it gets easier with the same subs
Once your sub comes out to one game, they will be added to the stats pages and next time we print the game sheet, they will appear on it. When you call them out again, all you have to do is check them off on the game sheet. Done deal. Probably makes sense to call out the same subs regularly, otherwise you have to do part 1 and part 2 each time you get a sub out.
We know, we know. Pandemic made things a little more complicated than they should be.
the jersey rule – mostly for your subs
The jersey rules is pretty simple. All jerseys must have a unique number on the back (can not have duplicate numbers in a game), tape is not allowed. But you can use a marker on the back to make a number.
You have 4 options.
Either everyone is wearing team matching jerseys with the team logo, or jerseys that match the base color of the team jersey that are blank in the front (no logo of any kind). Other acceptable jerseys for subs to wear are, jerseys matching the base color of the team's jersey that have an NCHL or Discover Hockey logo on the front.
Goalies can wear any jersey, or any color and number (or no number, then you put them down as zero on the game sheet).
and now for some examples
Your team is on the road (means white jerseys) the base color that matches your team's jersey is white. This means your subs must have white jerseys on for the game. Example two, you are the home team and you have a maroon middle and white sleeves. Dominant (base color) is maroon, so your subs need maroon jerseys for the game (black is not allowed, etc, etc, etc).
Sometimes things happen, you can't get everyone the right color. In that case you take a jersey infraction. You are allowed 2 free ones, after that unfortunately the team will lose all stats from the game with the 3rd jersey infraction(of course we know supply chain issues are reigning supreme, so we are pretty lenient with infractions right now). That being said, your players will still get credited with being at the game (this is important for playoffs, as you need 1/3 of the season to be able to play).
Please get in touch with us if you have any other questions about this.
OTHER SITES