Where To From Here? A Message About Summer Hockey Season In Alberta
A few days ago we learned that the Government of Alberta is moving everything back one step. As of Friday no indoor dining will be allowed at restaurants, unless it is on a patio, while all other restrictions from step 1 are in effect as of the day of the announcement. So how does this affect summer hockey?
People are tired of COVID. We totally get it. It seems like the barrage of bad news just keeps on coming. Cases, positivity rate and hospitalizations are rising. But, the immunization rate is increasing as well. More and more people are getting the vaccine, and the province is receiving more doses weekly. As of April 6th, 755,831 doses of vaccine have been administered. Nearly 17 out of 100 people got one dose.
All this is a bump in the road. The hammer and the dance, inevitably predicted a year or so ago. Every day we are inching closer to normal. The Alberta Government also hinted at how we are going to go about reopening in the presser. Sure, the goal posts have moved, but they seem to make sense.
When all this will happen? All indications are that Stage 3 will be achieved sometime in mid June when every person over the age of 16 has had a chance to get the vaccine. In the meanwhile, hockey would probably be back in Stage 1 or 2. (if the government means immune is getting 1 dose, we should be at 22 people with a single dose out of 100 in less than a week or two).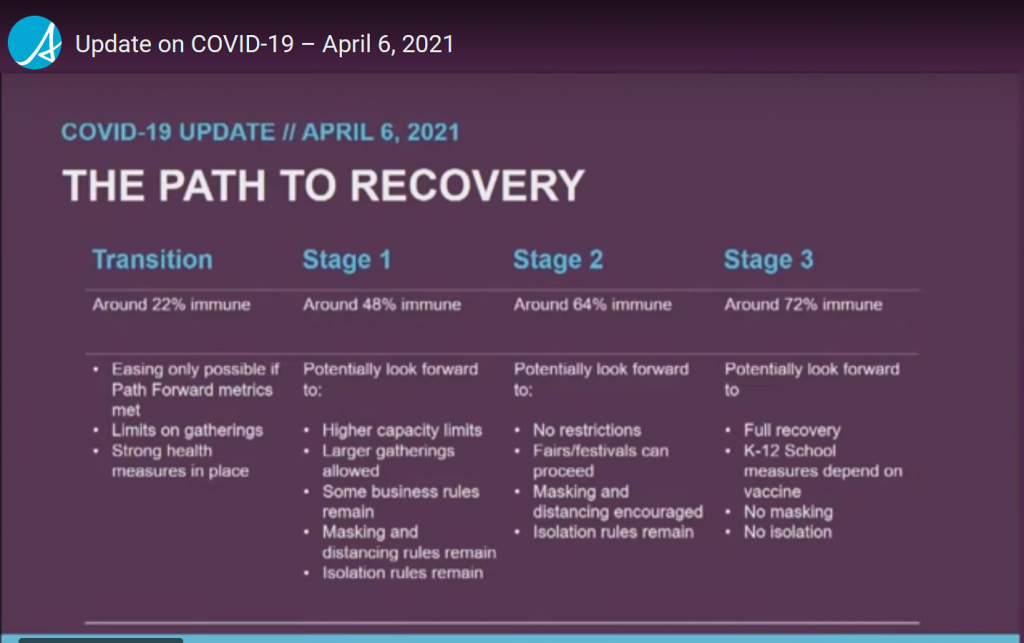 What does this all mean for Summer 2021 Hockey Season?
There is one thing that isn't in doubt. There will be a summer hockey season this year. When it will start we don't know. But as we have said before, as soon as we have the green light for adult sports to start up again we will fire up the summer hockey season 2 weeks after that announcement. So be ready!
Sure the season may need to be adjusted an augmented depending on the actual start date. We are ready for that possibility, and we will make the best of it. On the outside chance that the summer hockey season is cancelled because of restrictions, your team fees will be refunded to your team GM. Read about how we did it in the winter here.
So either we play hockey this summer or you get your money back, and it is 100% guaranteed. Of course, if there is a reduction in the number of games for the season, the team will be credited the difference. We'll do what is right as we have done every single time in the past.
Thank you for your patience as we navigate these crazy times together.
Stay safe!
The NCHL – A Better Way To Play!