Summer 2022 hockey season playoffs info
The playoff schedule is now posted on the stats pages for each city.
What you and your Team GM need to know for playoffs, full rules can be found on the NCHL website http://stats.nchl.com/uploads/9978/files//NCHL-RULES-2021.pdf
Player/Goalie Qualifications for Playoffs
All players require 1/3 of the teams originally scheduled games to qualify for playoffs, (rounded down if required), for most teams this will be 4 games.
Teams that have a forfeit this season are still required to have the minimum 1/3 games of the teams originally scheduled games required, 4 games for most teams.
We do NOT make exceptions for any reason on the minimum number of games required for a player to be eligible for playoffs.  Please ensure this is communicated to all players on your team.
All goalies require 1/3 of the teams originally scheduled games in goal to play net in playoffs.  Goalies with less than 1/3 games played must follow the spare goalie process below.
A player with a combination of games between goalie and player is permitted to play out however, if you require this player to play in net and they do not have 1/3 games playing in goal, you must follow the spare goalie request.
Spare goalie process for playoffs.  
**Requests will not be reviewed until after your last regular season game, please wait until then to send a request**
If a team requires a spare goalie, please give a MINIMUM of 24 hours' notice.  Provide us with all teams the spare goalie plays on including all links to the stat pages from all leagues, not just NCHL stats.   A review will NOT be completed until this information is provided, no exceptions.
Spare goalies must play in the current NCHL season (at least 1 game played this season in the league on any team) and play in the same division or lower to be considered for an exception.  Tier 4/5 only; teams can request any appropriate goalie from within this tier to sub for them due to the limited number of teams that a spare goalie can be pulled from.
Goalies regularly playing in divisions higher than your division will not be approved as a spare goalie with exception of tier 4/5.
Goalies not currently playing in the NCHL this season will NOT be approved for playoffs.
NCHL provides a NCHL Free Agent Facebook page for teams to find spares.  This can be used for spare players during regular season and spare goalies in playoffs.
For a spare goalie to be reviewed
The team GM must provide stats [at] nchl [dot] com with all the stats pages for every team that the spare goalie has played for in the last year, not just NCHL teams.  Please do your research prior to submitting requests as we will just bounce them back to you if they do not come in with the required info and this will delay the approval process. 
We do understand that there are last minute fill ins required in some instances.  If your team is not able to follow the spare goalie process above due to a last-minute cancelation, you are still required to submit all the above info before the goalie plays for your team.  A review will be completed ASAP after the game by league admin.  If the goalie is determined to be above the level of the division or does not fit the above requirements, the team will forfeit the game after it is played and their opponent will continue onto the next round.
Regular season goalies that are approved for playoffs are NOT permitted to play out when a spare goalie is in net.  Doing so will result in forfeit and your opponent will carry on to the next round.
No jersey infractions are allowed in playoffs
Every team is required to have matching jerseys in playoffs.  Players that are not in an acceptable team jersey based on the NCHL jersey rules will not be permitted to play.  This rule will not be in place this season due to supply chain issues many teams have run into.  Players will be required to have the similar base colour jersey (Away Light, Home Dark) and a permanent, unique number.  No tape and no duplicate numbers. 
Rosters
We will be going through all team rosters after to your last regular season game.  Players that do not have 1/3 of your teams originally scheduled games will be removed from your playoff roster.
Rosters are a manual process, please ensure you double check your playoff roster after your final regular season game and ensure no one is missing.
Best of 3 finals
Reminder, all game 3's for the finals will be scheduled as required.  Your team will be advised of the date and time at the end of game 2 if required.
Here are the potential dates for finals:
CALGARY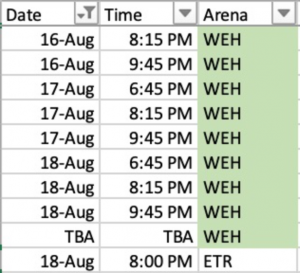 EDMONTON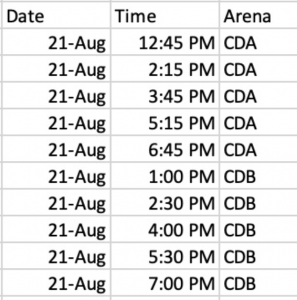 RICHMOND